DCCCA Wichita Programs Awarded Smoking Cessation Grant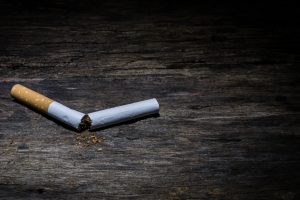 DCCCA was recently awarded a smoking cessation grant in the amount of  $156,634 to provide tobacco treatment and recovery services in our Wichita programs:  Women's Recovery Center and Options Adult Services.  The 3 year grant was awarded by the Kansas Health Foundation to support efforts to reduce tobacco use by individuals suffering from mental illness.  Implementation will begin at Women's Recovery Center in August, 2016 and expand to Options Adult Services the following year.
The Women's Recovery Center offers specialized alcohol & drug treatment designed to meet the unique needs of women, pregnant women, and women with dependent children. Options Adult Services provides a comprehensive model of substance abuse treatment for adult males. DCCCA's smoking cessation program will focus on increased awareness and knowledge, intent to quit, and support for policies and practices that encourage cessation.
According to research conducted in 2014 by RTI International nearly half of Kansans with mental illness smoke, this is double the rate of Kansans with no mental illness. "This high rate of smoking contributes to why, on average, individuals with serious mental health conditions die 25 years earlier than their counterparts in the general population." (National Association of State Mental Health Program Directors, Medical Directors Council, July 2006; Miller et al, 2006.)
DCCCA is excited to begin this new initiative at the Women's Recovery Center and Options Adult Services programs in Wichita, KS.   Implementation of smoking cessation treatment begins at the Women's Recovery Center on August 1, 2016 and furthers the success of DCCCA's mission to improve the safety, health, and well-being of those we serve.