Substance Use Prevention Alliance (SUPA) of Oklahoma County, DCCCA Inc., and the Oklahoma National Guard Drug Task Force Present: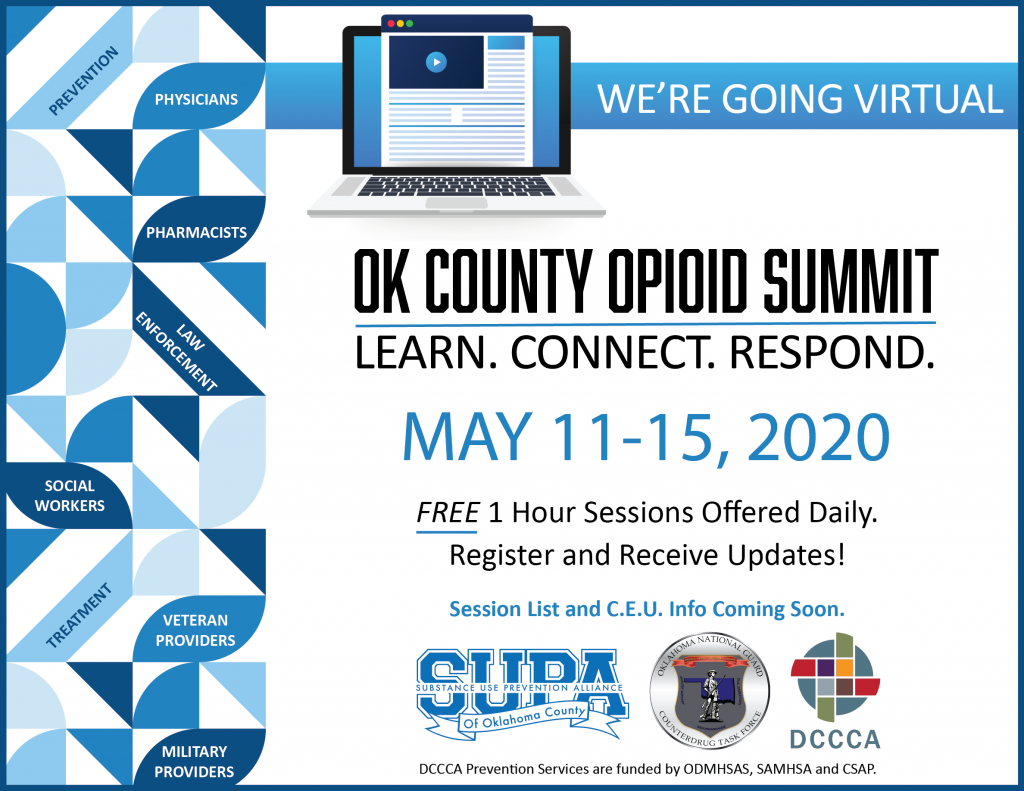 Who Should Attend?
Physicians, Nurses, Health Care Providers, Pharmacists
Prevention Specialists, Educators
Public Health Professionals, Legislators
Social Workers, Psychologists
Treatment and Recovery Providers, Addiction Specialists
Law Enforcement, Veteran and Military Providers
Why Should You Attend?
Speakers in each session will discuss strategies regarding how to address the crisis through the different lenses of Prescribing, Prevention, Treatment & Recovery, Law Enforcement and Intervention with unique voices of their professional experience.
CME, CNE, BSRB, CEU, CLEET, and Pharmacy credits may be awarded through the conference. General Continuing Education credits can be received by submitting your conference certificate to your licensing entity.
Participants Will:
Collaborate to prevent duplicative work and improve strategic planning.
Gain awareness of the impact of the prescription drug and opioid crisis in our state.
Explore evidence-based strategies, best practices, and resources for:

Prescription drug and opioid misuse and abuse prevention
Opioid Use Disorder treatment and recovery
Pain management, opioid prescribing, and PMP use
Motivational interviewing techniques
The role of law enforcement in mental health
How addiction affects the brain and the effectiveness of MAT

If you have any questions about the summit, please contact Lisa Harper at lharper@dccca.org or at 405-548-5059.