DCCCA's Behavioral Health Services announces a Pain Management Program aimed at clients undergoing persistent pain symptoms. To make a referral or schedule an appointment, simply contact the Lawrence Outpatient front desk at 785-830-8238.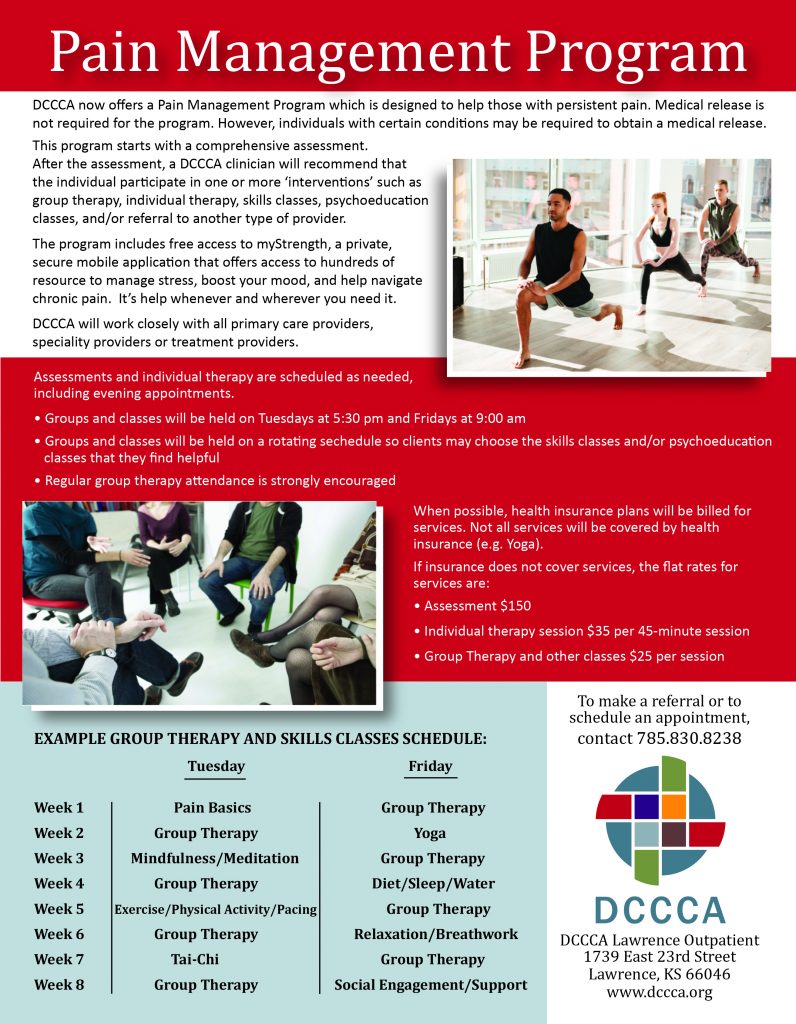 Who can participate in the program?
-The program is designed to help those with persistent pain.
-People may experience persistent pain for many reasons: headaches, diabetic nerve pain, rheumatoid arthritis, fibromyalgia, injury, trauma, among many other conditions.
-In general, medical release is not required for the program. However, individuals with certain conditions may be required to obtain medical release (e.g. pregnant women).
What does the program look like?
-Starts with a comprehensive assessment, which may include info from primary care providers, specialty providers, family, and/or friends.
-After the assessment, the clinician will recommend that the individual participate in one or more "interventions" such as group therapy, individual therapy, skills classes, psychoeducation classes, and/or referral to another type of provider.
-Participation in the program also includes access to myStrength, which has a new Chronic Pain module.
-DCCCA staff will work closely with all primary care providers, specialty providers, and all medication or treatment prescribers (refusal of care coordination may result in termination from the program and referral to an alternative provider).
When is the program offered?
-Assessments and individual therapy are scheduled as needed, including evening appointments.
-Groups and classes will be held on Tuesdays at 5:30 p.m. and Fridays at 9:00 a.m.
-Groups and classes will be held on a rotating schedule so that clients may choose the skills classes and/or psychoeducation classes that they find helpful.
-Regular group therapy attendance is strongly encouraged.
How much does it cost?
-When possible, health insurance plans will be billed for services.
-Not all services will be covered by health insurance (e.g. Yoga).
-If insurance does not cover services, the flat rates for services are:
-Initial Assessment – $150
-Individual therapy $35 per 45-minute session
-Group therapy and other classes – $25 per session
Example Program Curriculum:
Psychoeducation classes:
-Pain Basics
-Diet/Exercise/Sleep/Water
-Physical Activity/Pacing
-Social Engagement/Support
Skills Classes:
–Relaxation/Breathwork
-Mindfulness/Meditation
-Yoga
-Tai-Chi/Qi Gong
Group Therapy, example topics include:
-Family Group
-Flair Ups/Relapse Prevention
-Triggers and Stress
-Identifying healthy and unhealthy lifestyle factors
-Trauma and Pain
-Increasing Functioning in Daily Activities
-Acceptance and Commitment
-Pain and Anxiety and Depression
Example Group Therapy and Skills Classes Schedule:
| | | |
| --- | --- | --- |
| | Tuesday | Friday |
| Week 1 | Pain Basics | Group Therapy |
| Week 2 | Group Therapy | Yoga |
| Week 3 | Mindfulness/Meditation | Group Therapy |
| Week 4 | Group Therapy | Diet/Sleep/Water |
| Week 5 | Exercise/Physical Activity/Pacing | Group Therapy |
| Week 6 | Group Therapy | Relaxation/Breathwork |
| Week 7 | Tai-Chi | Group Therapy |
| Week 8 | Group Therapy | Social Engagement/Support |