ACCREDITATION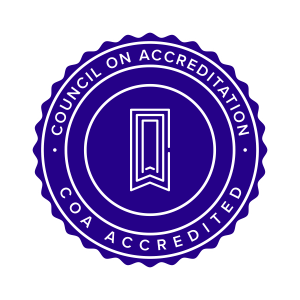 DCCCA has been accredited by the Council on Accreditation (COA) since 2007. DCCCA is accredited through June 2027. The reaccreditation site visit was completed in February 2023.
COA is an international, independent, nonprofit, human service accrediting organization. COA accreditation is an objective, independent, and reliable validation of an agency's performance. The COA accreditation process involves a detailed review and analysis of an organization's administration, management, and service delivery functions against international standards of best practice. The standards driving accreditation ensure that services are well-coordinated, culturally competent, evidence-based, outcomes-oriented, and provided by a skilled and supported workforce. COA accreditation demonstrates accountability in the management of resources, sets standardized best practice thresholds for service and administration, and increases organizational capacity and accountability by creating a framework for ongoing quality improvement.
"Accreditation validates the professionalism of our staff and the quality of services provided by our agency.  The COA credential provides tangible evidence of what DCCCA does well and how we can continue to improve services," said Lori Alvarado, Executive Director.
As part of accreditation and a desire to provide the best services possible, DCCCA engages in quality improvement processes.
LICENSURE
DCCCA's substance use disorder treatment programs are licensed by the Kansas Department for Aging and Disability Services (KDADS).
DCCCA holds a Child Care Center license from the Kansas Department of Health and Environment (KDHE) at Women's Recovery Center.
DCCCA is licensed by Kansas Department for Children and Families and the Missouri Department of Social Services as a Child Placing Agency.