The Behavioral Health Training and Technical Assistance program is part of the Kansas Prevention Collaborative (KPC). DCCCA's BHTTA program works to train community coalitions around the state of Kansas in their substance use and mental health preventative services.
BHTTA and KPC provide opportunities for training, connections, collaboration and information sharing among community coalitions. Virtual and in-person learning opportunities for community prevention coalitions include face to face support, web-conferencing, phone calls, e-learning modules, and toolkits. Strengthening prevention efforts on a community level will increase the availability of resources to coalitions, allowing them to improve and grow their prevention efforts.
Interested in scheduling training for your community coalition? Use the referral button to contact us and let us know what services would most benefit your community.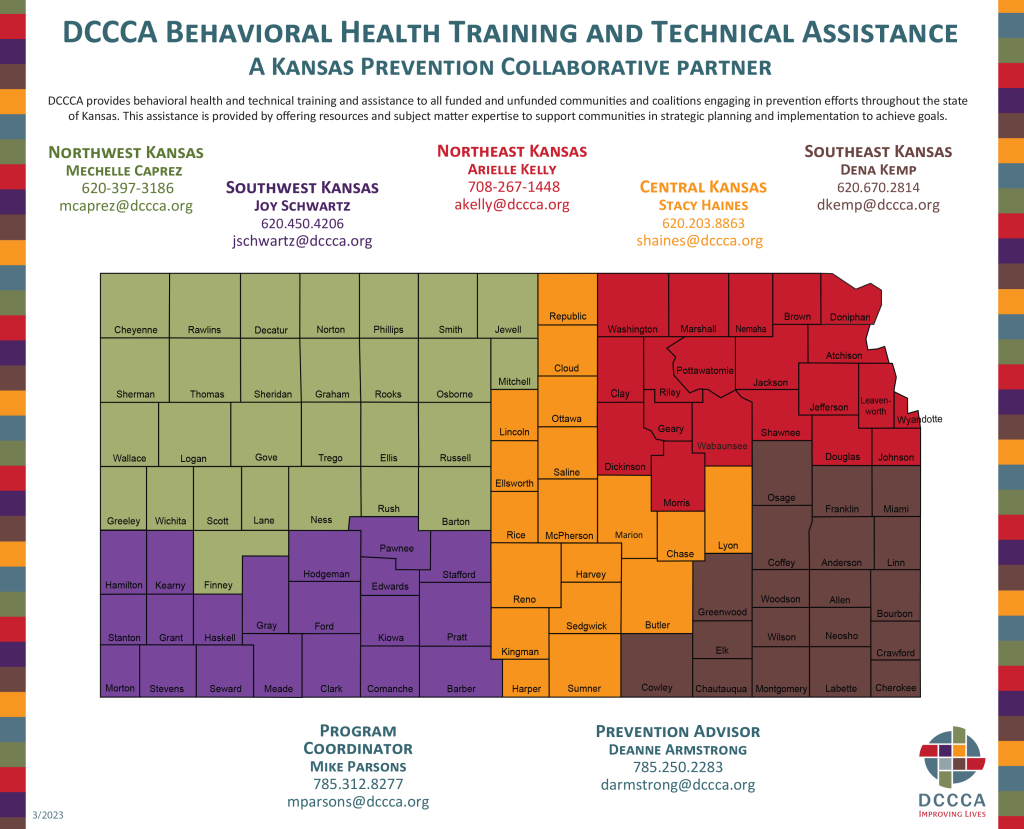 Northwest Kansas
205 East 7th St.
Suite #159
Hays, KS, 67601
Phone: 1.316.925.6744
Mechelle Caprez, Community Support Specialist
1.620.397.3186
mcaprez@dccca.org
Southwest Kansas
Joy Schwartz, Community Support Specialist
jschwartz@dccca.org
Central Kansas
Stacy Haines, Community Support Specialist
shaines@dccca.org
Crystal Dalmasso, Training and Recruitment Supervisor
1.316.925.6737
cdalmasso@dccca.org
Northeast Kansas
1739 East 23rd St.
Lawrence, KS, 66046
Phone: 1.785.830.8238
Fax: 1.785.830.8246
Driving Directions
Mike Parsons, Program Coordinator
1.785.312.8277
mparsons@dccca.org
Arielle Kelly, Community Support Specialist
1.708.267.1448
akelly@dccca.org
Deanne Armstrong, Prevention Advisor
1.785.250.2283
darmstrong@dccca.org
Southeast Kansas
Dena Kemp, Community Support Specialist
dkemp@dccca.org